Splash Paws Canine Hydrotherapy
SAFE AND PROFESSIONAL CARE

Team Splash Paws are all proud to be members of the Canine Hydrotherapy Association and work to the CHA's Quality Standards and Code of Practice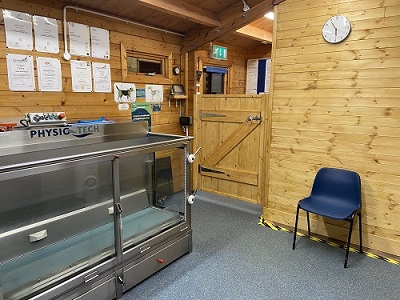 Facilities
Our friendly canine rehabilitation centre, with fully qualified Canine Hydrotherapists and Physiotherapist, is based in Staplehurst, Kent.
We offer Rehabilitation Canine Hydrotherapy, Physiotherapy and Laser Therapy at our purpose-built centre, with three separate, quiet, calm Therapy Rooms.
We offer 100% care & attention for your dog, we pride ourselves in ensuring that your dog will not meet other dogs or clients whilst attending their therapy session in the centre.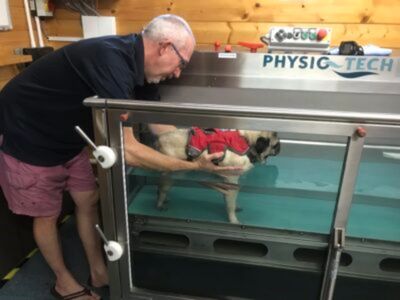 The Team
Our therapy team is lead by Graham (Hydrotherapist and Owner of Splash Paws), he has over 12 years experience in hydrotherapy, was a  Director of the Canine Hydrotherapy Association and has worked  with dogs professionally since 2006.
Your dog will be treated by one of our highly qualified Canine Hydrotherapists or Physiotherapist.
Our therapy team have years of experience between them, they pride themselves on a high level of professionalism and care delivered to your dog during their individually tailored hydrotherapy, physiotherapy or laser therapy session.
Julie Cooper is the 'admin hero' member of the team and your first point of contact to answer your questions and book your Initial Assessment date with Splash Paws.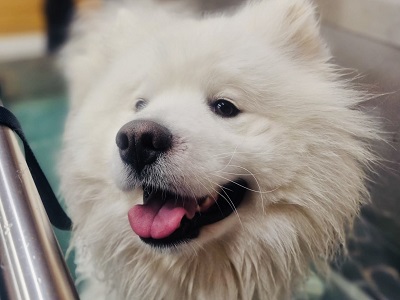 What Is Included
Our facilities allow us the option to treat your dog in one of our two Physio-Tech Underwater Treadmills in a calm environment.
Included in our Dedicated Therapy Plan for your dog are health checks, showering & drying, individual therapy assessment, gait analysis, home environment and exercise plans, regular feedback to your veterinary surgeon, ongoing assessment, video analysis, two hydrotherapists (if required for your dog's safety and care at no extra cost).
Ongoing assessment at Splash Paws includes analysis from our Companion Stance Analyser (at no extra charge).
Splash Paws, providing excellence and professionalism in Canine Hydrotherapy
We are here to improve your dog's mobility and quality of life
Splash Paws, providing excellence and professionalism in Canine Hydrotherapy
We are here to improve your dog's mobility and quality of life
My dog was diagnosed with bi-lateral hip dysplasia as a puppy and following consultation with an orthopaedic specialist we agreed to try hydrotherapy before considering a total hip replacement.  Almost immediately it was evident that after each session Roo was less stiff and much more comfortable.  His muscle measurements were taken and over time his muscles grew and the muscles in the weaker hip matched those in the stronger one.

The care and attention to detail taken by Graham and Alana are outstanding and they take every action necessary to ensure that Roo gets the most out of every treadmill step at every session.   I am convinced that their expertise and dedication have helped keep Roo fit and comfortable throughout the time he has been having hydrotherapy. After 6 years of hydro Roo has now had a total hip replacement but I have no doubt that this would have been necessary several years ago had it not been for regular hydro.   He has returned to hydrotherapy as part of his recovery and I know that this will help him to recover quickly.
Finzi, our German Shepherd developed mobility issues at just 6 years of age, affecting his hind limbs and occasionally one of the fore limbs.  Our vet suggested hydrotherapy might help, so we took Finzi to Splash Paws. A thorough Initial Assessment was carried out and a regular course of hydrotherapy in the Underwater Treadmill was undertaken.

Regrettably, there was no cure for the mobility issue, but the hydrotherapy provided by Splash Paws coupled with their specialist knowledge in mobility issues in dogs, helped enormously, giving Finzi a much improved quality of life.  We have no hesitation in recommending Splash Paws for their experience and knowledge, helping any dog with a mobility issue.
Scout started going to Splash Paws after she was diagnosed with Elbow Dysplasia. When she first arrived her limp was very pronounced and she was obviously in pain. To say she is now a different dog is an understatement.

Graham and Alana were incredibly kind, patient and professional in their understanding of the treatment needed. They clearly take great pride in their work and monitored Scout closely throughout her sessions. Her joints and muscles are much improved and she is now strong, full of energy and most importantly a happy dog once again.

It's been a real pleasure to take Scout to Splash Paws and both Scout and I will miss our visits.
We first came into contact with Splash Paws not long after our 9/10 month old Kelpie cross had a Femoral head and neck excision. Despite our vet's reassurance he would figure out how to use his leg again, it became pretty apparent that wouldn't be the case. Skip forward to our first ever session and we were so impressed with how the team managed him and clearly listened to us about our concerns, worries and what our aims for his future were. Instantly the whole team were very reassuring, explained everything in detail to us and came up with his exercise plans based entirely around our lives. They absolutely went out of their way to help us fix Mace, worked overtime for sure and were more than helpful even outside of sessions.

Fast forward nearly a year Mace sadly had another accident which meant he would have to lose the leg we had all just worked so hard to fix. Splash Paws were just as heartbroken as us, I cannot thank Graham, first and foremost, enough for being there at the end of the phone at possibly the most traumatic event that we'd ever had happened to one of our dogs. He totally reassured us we had done the right thing and was there for anything we needed. One huge, great, big thank you to Alana as well who went out of her way to send us her good wishes and any advice she had for the tricky weeks ahead.

Mace returned to hydro a couple of months after his leg amputation and thankfully Alana has built up the most incredible bond with him, meaning he had full and absolute confidence in her asking him to do lots of new and tricky things. He enjoys every single swim he does with Alana and I cannot imagine entrusting any other business with my dog. He will continue to come here for as long as it may be and not only have all of Splash Paws been a great, knowledgeable support, but they have also become great friends of ours. For everything they have done for Mace, we are eternally grateful!